Is Yavin the best modern card reader in Ireland?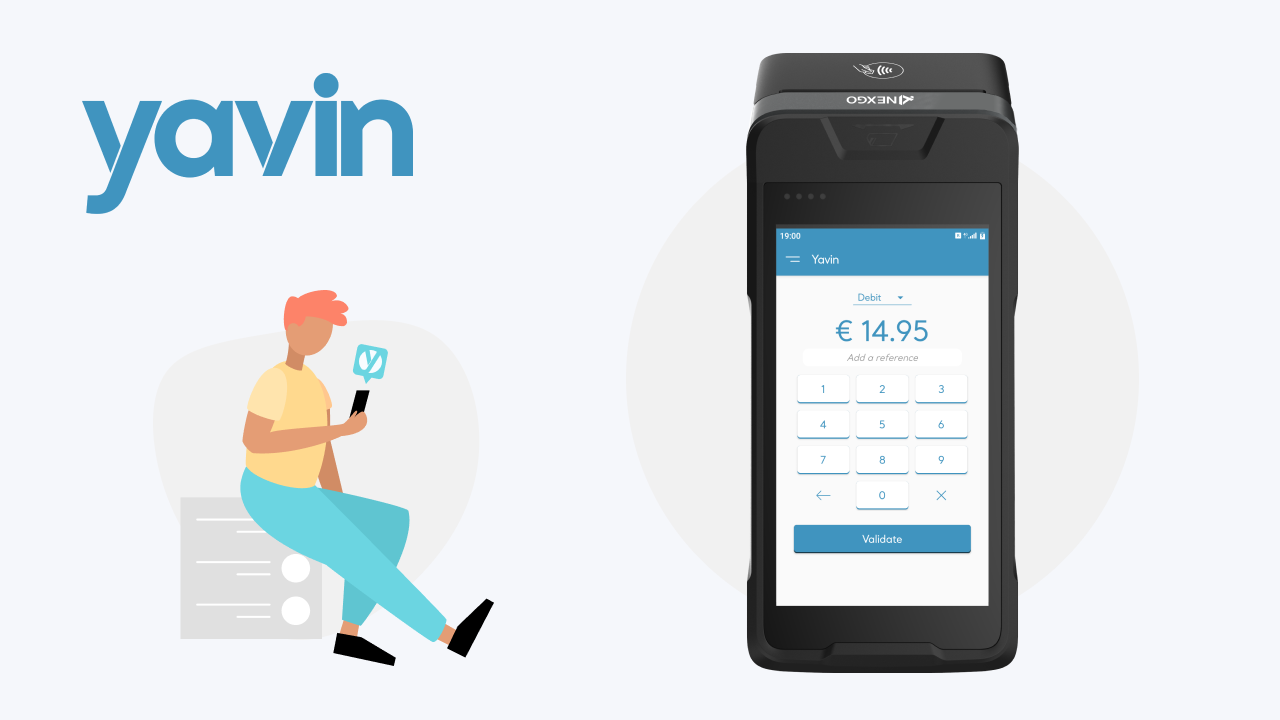 The Yavin card reader is ideal for established merchants, who want the same rates as banks, with no commitment or hidden fees.
👍 Pros – Rates below 1% for most payment methods. No commitment. Modern terminal with 4G and integrated printer. Powerful features: digital receipts, tips, Google reviews, integration with PoS software, etc.
👎 Cons – Commission may vary based on the payment method used. All PoS systems are not compatible yet.
✅ Buy if – You are an established business, looking for a modern offer with low transaction fees.
Yavin Terminal 4G Printer


⭐️ 50% off your terminal with Entrepreneur Hero

💳 ~0.8% in fees

🚀 €29/mt - 1 month free

GO TO OFFER
Yavin is a modern alternative to traditional card readers in Ireland
The card reader for Irish SMBs and entrepreneurs
Getting equipped with a payment terminal is often a struggle for merchants. The oligopoly of traditional terminal providers caused a lack of innovation in the space, leaving the entrepreneurs' needs for flexibility and modernity unaddressed.
Yavin was designed as an alternative to classic payment terminals. It is an ally to street-side businesses, who want the best payment service with a simple offer and no contract.
With its last-generation Android terminals, dedicated customer support, and low transaction fees, Yavin has become a new standard of in-store payment for SMBs in Ireland.
Grow your business for €29/month with no commitment
Yavin's standard offer, the 'Pro' plan, provides merchants with access to a complete in-store payment solution. This all-in-one offer is specifically relevant for restaurants, hospitality businesses, retailers, service companies, etc.

For €29/month, merchants have access to Yavin's complete offer:
Acceptance of all payment methods in 4G or WiFi

Access to Yavin's competitive bank rates

Real-time Yavin back-office on mobile or desktop

Dedicated customer support on weekdays

Yavin features and integrations: PoS, pay-in-3, payment over the phone, tipping, Google reviews, etc.
Yavin's offer is no commitment and does not come with additional fees. If the terminal is not in use for a month, nothing gets charged. This makes the Yavin offer very relevant if you have a seasonal business or do not want to commit to a fixed monthly fee.
Who is the Yavin card reader for?
Yavin is a robust alternative to banks and financial institutions to get equipped with a card reader. It targets established merchants, who want to benefit from the competitive rates of banks, with no commitment or hidden fees.
If you are an established business in Ireland, like a restaurant, bar, hairdresser, etc. – Yavin's solution is worth the try. The card reader is compatible with all bank accounts, and comes in ready to use, so you can start getting paid immediately.
The Yavin Terminal offers advanced features beyond payment, to help your business grow: tips, customer reviews, digital receipts, etc. Their integration with PoS systems and accounting software also helps merchants operate seamlessly and focus on serving their customers.
As a starting business, though, Yavin might not be the best solution for you. You should then consider the likes of Square or SumUp, which were specifically designed for micro-businesses. Although their transaction rates are quite high, they do not have a monthly fee, meaning you do not need a minimum transaction volume to be profitable.
As a rule of thumb, Yavin will be the best option for merchants making €5k, €20k or more per month, while Square and SumUp are more relevant for micro merchants making less than €5k per month.
Yavin Terminal review: a robust solution for street-side businesses
A sleek and modern Android terminal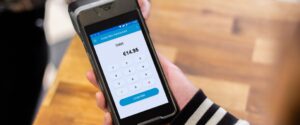 The Yavin Terminal is based on the latest generation of mobile 4G & Wi-Fi Android terminals. It is a standalone device, as it is equipped with a 4G multi-operator SIM card and a high-speed printer. On average, transactions are processed 2 to 3 times faster compared to traditional card readers.
Here are the main specs of the Yavin Terminal:
HD (1280 x 720) touchscreen

Camera and integrated QR code reader

High-speed thermal printer & digital receipts

Quad-Core 1.4GHz processor

Connectivity: Wi-Fi, 4G/3G, Bluetooth

USB-C connection
Based on Entrepreneur Hero's real-conditions tests, the terminal can be used for a full business day without charging. The device is waterproof and shockproof up to 1.5 meters, making it resistant for all business conditions.
A simple payment interface with powerful functionalities
The Yavin Terminal's intuitive interface enables seamless and rapid payment. Merchants simply have to enter the desired amount, press confirm, and get paid. Funds are then transferred to the merchant's account within 2 days.
The Yavin Terminal comes with access to an online back-office to monitor transactions in real-time. From the MyYavin platform, merchants can track all payments, manage their terminals, and customize most parameters (paper receipts, digital receipts, etc.).
In addition to basic payment features, the Yavin Terminal offers a suite of tools and business apps for merchants willing to tailor their payment experience. Our favourite features include tipping, sending digital receipts over email or text, and asking customers for Google Reviews directly on the card reader.
Third-party app and PoS integration
Yavin is based on an Open API architecture, meaning it can connect with any other PoS system or third-party app. Merchants can thereby connect their Yavin Terminal to their PoS system, accounting software, loyalty program, etc.
Yavin integrations enable merchants to operate more easily by using their favourite tools directly on their device. It also helps avoiding the risk of reconciliation errors or miscalculations.
The list of compatible software and equipment is directly available on Yavin's website.
Yavin pricing review: a single monthly fee and competitive rates
All-in-one monthly fee per terminal in use
Yavin charges a fixed monthly fee per terminal in use, giving access to all features, dedicated customer support, and maintenance updates. The fixed fee also covers the 4G SIM card included in the terminal, SMS and emails, and well as access to Yavin's competitive transaction fees.
This simple pricing enables merchants to benefit from the latest payment technology all year round, with no lock in or commitment. The monthly fee does not apply when the terminal is not in use, meaning merchants do not pay anything if they do not collect money.
Competitive transaction rates based on interchange+
Yavin provides merchants with access to competitive interchange+ commissions, which are the standard for large merchants and retailers. Interchange+ is the real cost of a transaction, charged by banks and Visa/Mastercard. Interchange+ is particularly low for local cards, which are the most used payment method.
As part of Yavin's Pro plan, Yavin's commissions are of 0.5% on top of interchange+, with gateway fees of €0.05. On average, Yavin's variable commissions enable most merchants to pay around 0.7-0.8% on average for local cards.
Although Yavin's variable commissions are more complex than fixed rates, they enable merchants to access to most competitive rates for each card accepted.
Dedicated customer support
Yavin's support team is available over the phone on weekdays from 9am to 7pm, and during the night and weekends via a dedicated chat. 
Merchants can therefore benefit all week from assistance for all questions or issues they may have. Online reviews for Yavin's support are quite positive.
In addition, Yavin offers regular software and maintenance updates for merchants willing to access the latest payment features available.
Is Yavin the best card reader for your business?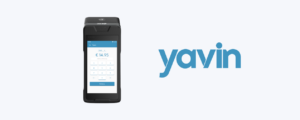 The Yavin Terminal vs. traditional card readers
Yavin differentiates from traditional payment providers with its modern and flexible offer.
Most traditional payment solutions rely on basic hardware with limited features. Yavin's modern Android device and proprietary software empowers merchants with a complete and versatile payment tool.
On the other hand, Yavin's offer is fully no commitment: merchants do not pay anything when they do not use their reader. Most traditional card readers offer require a 1-year commitment minimum, with fixed monthly payments.
When it comes to transaction fees, we recommend you compare your Yavin offer with that of your bank or current provider. As fees can be negotiated directly based on your monthly payment volume, it is difficult to provide a definitive answer.
Here is our advice: the face price provided by terminal providers and banks often does not take hidden fees into account. We recommend you consider all the fees charged (instalments, set-up fees, support, commitment duration, renewal of the commitment, transaction fees, etc.) when comparing card reader offers.
The Yavin Terminal vs. Square & SumUp readers
Yavin presents similarities with solutions like Square and SumUp, as they all aim to provide merchants with a flexible and modern in-store payment solution.
Nonetheless, Square and SumUp are particularly relevant for starting businesses, who make occasional sales and who have simple needs.
On the other hand, Yavin's complete offer addresses the needs of established merchants with regular cash-flows, willing to get a modern solution with competitive transaction fees.
Yavin, Square and SumUp
The Yavin difference

Modern terminal backed by top technology

Real-time back office and monitoring tools
No commitment or lock-in

Competitive transaction fees

below 1% on average

Proprietary Yavin features and live support
Integrations with PoS systems and third-party apps
Conclusion – Yavin: is a modern and flexible reader for established Irish businesses
While there are several parameters to take into account when choosing a card reader, Yavin is a top player when it comes to flexibility and modernity.
If you run a restaurant, bar, hotel, hair salon, service company, etc., then Yavin will provide you with a strong alternative to your bank and comparable transaction rates.
Make sure you read our article about the best card reader in Ireland to get a full understanding of the different offers in Ireland and find the most relevant reader for your company.
Yavin Terminal 4G Printer


⭐️ 50% off your terminal with Entrepreneur Hero

💳 ~0.8% in fees

🚀 €29/mt - 1 month free

GO TO OFFER