What is the best card reader in Ireland?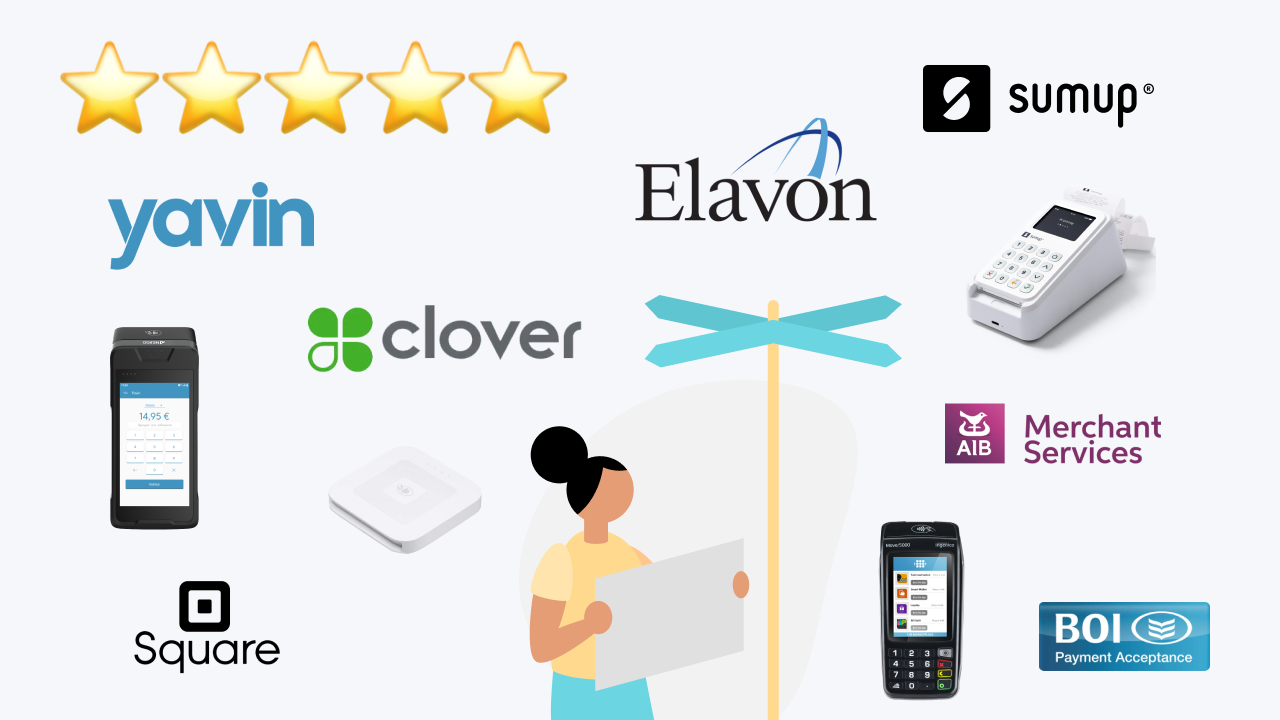 Whether you would like to acquire your first card reader, or consider switching to a better offer, Entrepreneur Hero helps you find the best solution for your business in Ireland.
Getting a card reader is no longer an option for local businesses in Ireland. With the ever-decreasing use of cash and the shift towards contactless payment, having an effective and complete in-store payment solution is essential.
While there are many parameters to consider when choosing the best card reader, starting with the size of your business can help you find the ideal solution:
You are a starting business, making less than <€5k/month
→ Taxi, pop-up store, small coffee shop, etc.
✅ SumUp and Square will have the best card readers to help you get started.
You are an established business, with a turnover of €5k+ per month
→ Restaurant, shop, bar, services, etc.
✅ Yavin's modern solution, or more classic card readers from banks, can equip your business with the right terminals.
SumUp – a leading card reader solution for micro-merchants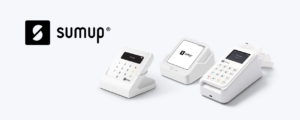 The SumUp Offer
London-based SumUp has been operating in Ireland for more than 10 years now, where it has won over many small retailers with its simple, no-commitment offer.
Once you have purchased your SumUp terminal, you only pay when you use it. SumUp charges a flat 1.69% fee for each transaction.
This simple fixed rate makes it easy to calculate fees, and allows you to accept international and American Express cards without any additional costs. It is, however, an expensive option than average to accept local card payments.
SumUp Card readers
SumUp offers three affordable card reader in Ireland: the SumUp Air, the SumUp 3G Printer, and the SumUp Solo. Each device is sold at a different price, but the same 1.69% rate applies regardless of the terminal used.
SumUp Air
The SumUp Air is the brand's entry-level card reader, available for €29. Its compact and sleek design makes it easy to use and carry around. The card reader connects via Bluetooth to a tablet or smartphone, and gets activated through the SumUp app. It is quite easy to set up and offers all basic payment functions such as collection, cancellation, and sending receipts by text or email.
SumUp 3G Printer
The SumUp 3G Printer is a stand-alone terminal, operating without the need to connect a tablet or smartphone. As its name suggests, it can work from anywhere via 3G (and Wi-Fi) thanks to an integrated SIM. It also comes with a printer to hand out receipts on demand. Priced at €149, the SumUp 3G Printer will appeal to retailers looking for a traditional-looking stand-alone card reader, with no subscription or commitment.
SumUp Solo
Solo is the most recent addition of SumUp to its card reader range. The device benefits from both the compact size of the SumUp Air and the autonomy of the SumUp 3G. Available for €99, it can connect to the network via 3G or Wi-Fi and has a fully touch-sensitive screen, but no built-in printer. Among our favorite features: asking the client for a tip based on the transaction amount.
SumUp Verdict: ideal for starting a business
SumUp is the leading solution for starting businesses in Ireland. If you want an affordable reader with no fixed fees, SumUp is a winning choice. Nonetheless, SumUp is not the best option for established businesses because of their high percetage fees on transactions.
Yavin – the complete card reader for established businesses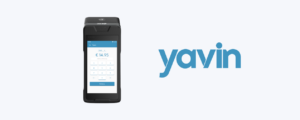 The Yavin Offer
The Yavin Terminal was designed for established merchants, who want the same rates as banks, with no commitment or hidden fees.
Yavin offers a modern and complete in-store payment solution, based on the latest generation of Android card readers, and some of the most competitive fees on the market.
Yavin's Pro plan starts at €29 per month, giving access to their complete payment solution:
Acceptance of all payment methods in 4G or WiFi

: cards, contactless, QR codes, etc.

Access to Yavin's competitive bank rates, around ~0.8% on average
Real-time Yavin back-office on mobile or desktop
Live customer support with hotline on weekdays
Yavin features: PoS integration, pay-in-3, payment over the phone, tipping, Google reviews, etc.
Good to know: Yavin's fees are based on interchange+, meaning they vary depending on the payment method used. For local cards, interchange amounts to 0.2 – 0.3%.
According to our tests, most merchants using Yavin pay less than 1% in fees on average. This makes the Yavin offer particularly attractive for businesses with regular cash-flows, such as restaurants, shops, grocery shops, hotels, franchises, etc.
The Yavin Card reader
Yavin offers an elegant card reader, from the latest generation of Android 4G & Wi-Fi card readers. It features an integrated printer and HD touch screen. It is both elegant and robust (waterproof and drop-resistant), with a battery life that lasts for a full business day.
The terminal comes with pre-installed applications for merchants: tips, Google Reviews, custom receipts, etc. Additional add-ons can be downloaded directly to the device from the Yavin Store app.
Based on an open technology, the Yavin Terminal can connect with third-party tools, such as PoS systems, accounting software, loyalty programs, etc. The complete list of Yavin's partners is regularly updated on their website.
Yavin Verdict: best option for established merchants
A robust solution for established businesses who want a competitive card reader offer while maintaining their flexibility. We particularly appreciate Yavin's low transaction rates, although they can be complex to understand.
Square – new card readers for starting Irish businesses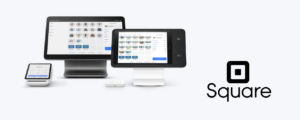 The Square Offer
US-based Square is a new entrant in the Irish in-store payment market. The company made its SumUp-like offering available in 2021, with a slightly different card reader range.
As with SumUp, you have to buy your Square card reader once, and then only pay when you collect money. Square's fixed transaction fee is of 1.75% for all terminals, slightly above SumUp's 1.69%.
In addition to classic in-store payment services, Square offers a selection of remote payment tools (payment links, QR code payments, etc.), with similar flat-rate pricing.
Square Card readers
Irish merchants can choose between two Square terminals: the minimalist Square Reader and the standalone Square Terminal.
Square Reader
The Square Reader is a most basic chip and contactless card reader. It needs to be connected via Bluetooth to an Apple or Android device to operate. The merchant will have to activate the reader from their device, and optionally ask the customer to type in their PIN code. Available for an affordable €19, it is a rudimentary – yet smart and stylish – way to accept card and mobile payment.
Square Terminal
Simply named « Terminal », Square's most elaborate device combines the versatility of a classic card reader with a futuristic design. It costs €169 and features a large HD touchscreen, an integrated printer, and a long-lasting battery. Only drawback: it connects via Wi-Fi or Ethernet only as there is no SIM card.
Square Verdict: the leading alternative to SumUp
Square's offer is very similar to SumUp's: it is great for micro-businesses who do not use their card reader very often. Slightly more expensive than SumUp in terms of transaction fees, it differentiates with its unique devices, 24/7 phone support, and wide range of payment solutions.
Elavon – a classic card reader offering with high fees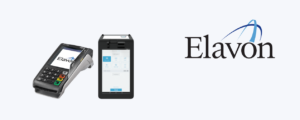 The Elavon Offer
Elavon is one of the world's top payment providers, operating worldwide with more than 2 million customers in 30 countries. It is naturally present in Ireland, where it offers a wide range of payment services, including in-store payment.
Elavon provides several types of classic Ingenico and Verifone payment card readers, that can be bought or leased, with transaction fees starting at 1%.
As merchants have to apply online to get a custom price from Elavon, it is difficult to provide a definitive answer regarding the total costs of Elavon's offer. Public terminal leasing prices are nonetheless above-market, as for the commissions reported by merchants. We advise you ask for a quote if you want to get a full picture of Elavon's costs for your business.
To be noted: there is a high volume of complaints from merchants online, with a recurring reporting of a lack of customer service.
Elavon Card readers
Elavon clients will have the choice between 3 card reader families: MobileMerchant (connecting via smartphone), Tetra (traditional terminals), Poynt (touchscreen terminals).
MobileMerchant
MobileMerchant is Elavon's response to SumUp's Air card reader. It is a €39 card reader that connects to any smartphone via Elavon's mobile app. The pay-as-you-go transaction fee starts at 2.75% for classic cards, and gets higher for Amex and international cards. It is a very expensive SumUp alternative, with no real added value.
Tetra
The Tetra Move 5000 and Tetra Desk 5000 are two mobile and fixed traditional Ingenico terminals, that can be rented from €15 per month. They include all the features of traditional terminals, and differ mostly by their connectivity: 3G, Wi-Fi and/or Bluetooth for the Move, Ethernet for the Desk. Minimum transaction fees start at 1%.
Poynt
Poynt P61B and Poynt P5 are two smart Android terminals equipped with touchscreens, built-in printers, and cameras. They can be leased from €27 per year, with transaction fees starting at 1%. Although the technical specs of the devices are quite impressive, the Poynt models are still quite limited in terms of features and integrations. Merchants using Talech PoS will nonetheless appreciate the fully-integrated application.
Elavon Verdict: standard and quite committing
Elavon's offer fails to differentiate against other solutions. The MobileMerchant offering, designed for micro-businesses, is way more expensive than SumUp or Square, with no extra features. Similarly, Tetra and Poynt terminals appear to be more expensive and less complete than alternatives.
Banks – traditional card reader offerings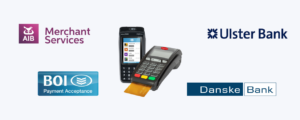 Many banks offer their own in-store payment solutions, either developed in-house or through a partnership. For instance, BOI has its own Payment Acceptance division, AIB Merchant Services distributes Clover terminals, and Ulster Bank partners with Worldpay.
Getting a card reader through your bank might be interesting in terms of transaction fees, but often comes along with long-term commitments and several additional costs.
Our advice: to get a full picture of costs, take into consideration all additional fees charged by your bank (monthly installments, commitment duration, set-up fees, transaction fees, customer service fees, network fees, etc.).
If you need a card reader on individual occasions, we recommend that you go for SumUp or Square, who will provide you with a flexible and modern solution without any fixed costs.
For established businesses and entrepreneurs, we recommend comparing your bank's terminal offering with Yavin's, which is more comprehensive and competitive than most traditional bank solutions.
Conclusion: which card reader should you go for in Ireland?
There recently has been some fresh air in the payment terminals space in Ireland. Newcomers, such as Square and Yavin, bring in greater choice to merchants who want the best in-store payment solution.
Micro-merchants who occasionally use their card reader can choose between the modern and flexible offers of Square and SumUp. Among the many devices available, there will be a card reader that ticks all the boxes for you.
For established merchants with regular cash-flows, we advise you to compare the offer of your bank with Yavin's complete solution, to make a fully informed decision.